So, holy cow! GDC was absolutely insane! I almost don't know where to start, but lets start from the beginning.
First thing first, I won again!!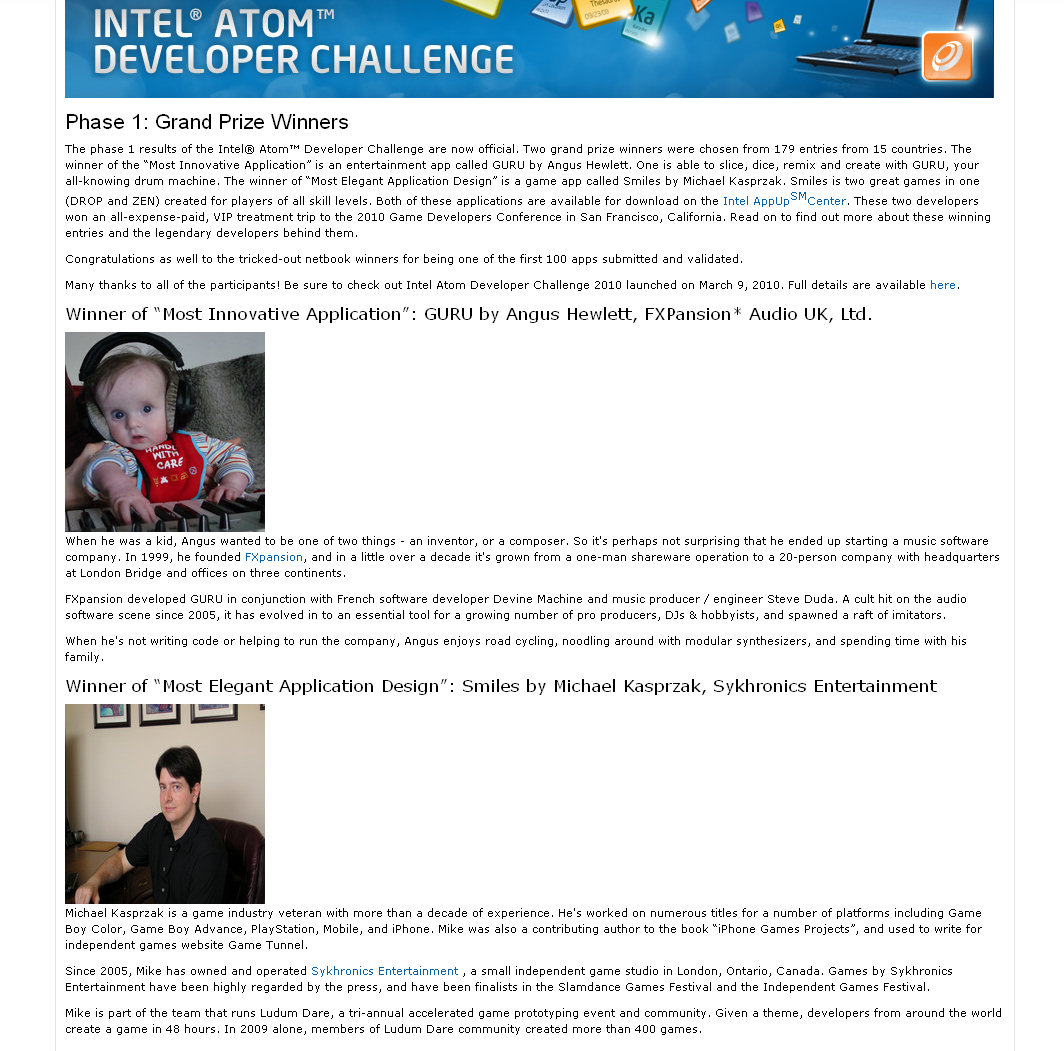 Argh! They used that squished photo again! I even sent them a square one!
Yes, as if winning a free car wasn't enough, I also won a free trip to GDC. So Intel ended up covering my flight, putting me up in a fancy hotel, gave me some spending money, treating me to dinner, AND giving me nearly front row seats to a San Jose Sharks hockey game! Whoa!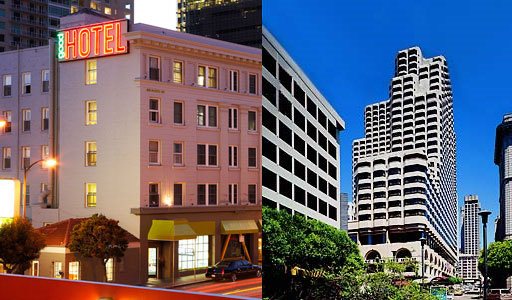 Left: Good Hotel | Right: Parc 55
The picture above is a comparison of my Hotel last year and this year. Last year I was staying at the Good Hotel (yes, that's actually its name). It was an enjoyably quirky little establishment that's also probably the cheapest hotel within walking distance of Moscone. I'm not exactly rolling in the dough, so I need to keep my costs low, splitting rooms and everything. You know, being responsible with my money. 🙂
Then this year, thanks to Intel, I'm on the top floor (32) of this crazy 4 star hotel just a few blocks from Moscone. Staying in luxury and all that.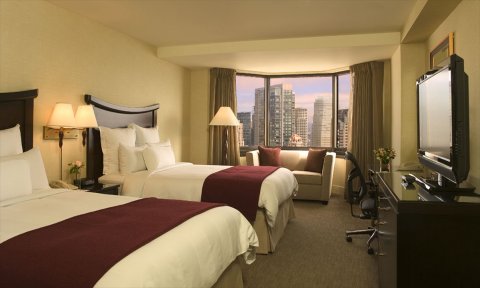 Not my photo, but my room looked pretty much like this
Seeing how we were on the upper few floors, we had access to special "club lounge". Now sure, while hanging out in a classy "lounge" for the social elite would be cool, the part that was really awesome was that the lounge featured free food! A continental breakfast in the morning, then hors d'œuvres and desert in the evening.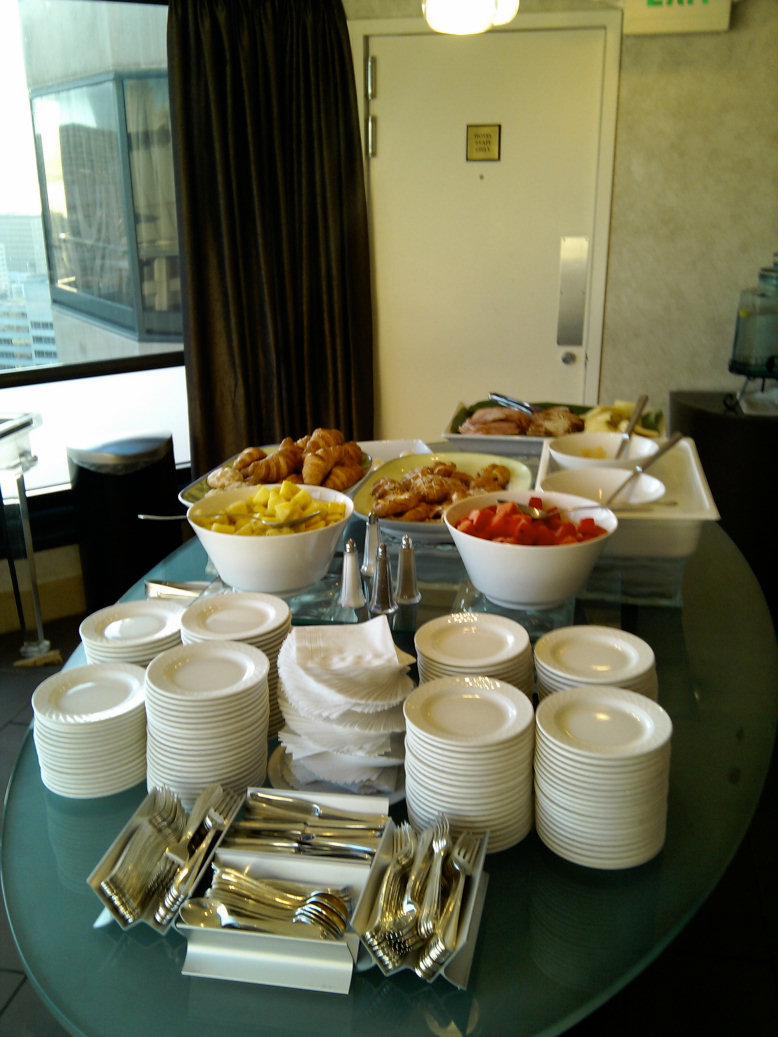 Fruit, Yogurt, Croissants, etc. Bagels, juice, coffee were off to the side
So wow, quite exquisite.
Oh, and did I mention? I had a driver! He even had a "Michael Kasprzak" sign with him when he picked me up at the airport!?! Wild.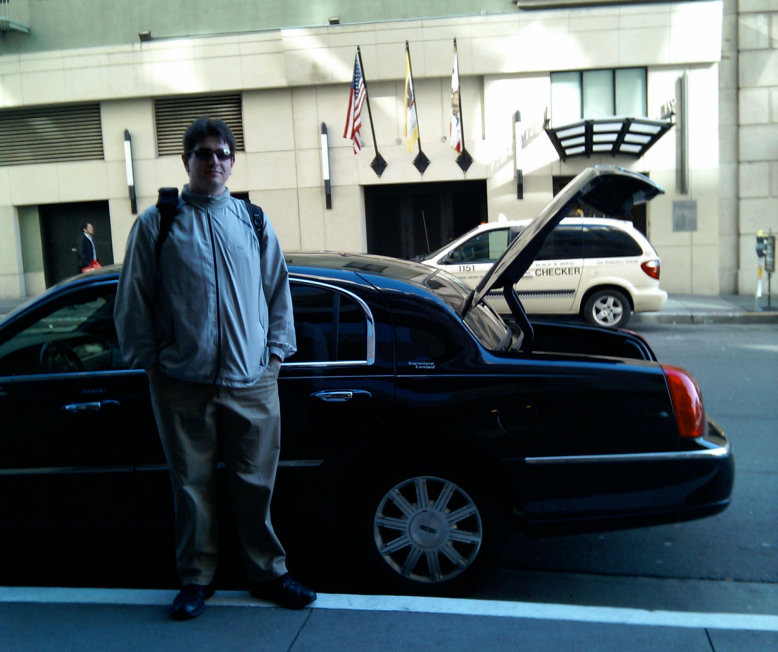 Even I admit I really look out of place in this photo
But of course, I was down in San Fran for the Game Developers Conference. It's the one time of the year us game making nerds from all around the world can all get together in one place, discuss our craft, and get drunk together. So yeah, the other thing Intel did for me was give me a better conference pass.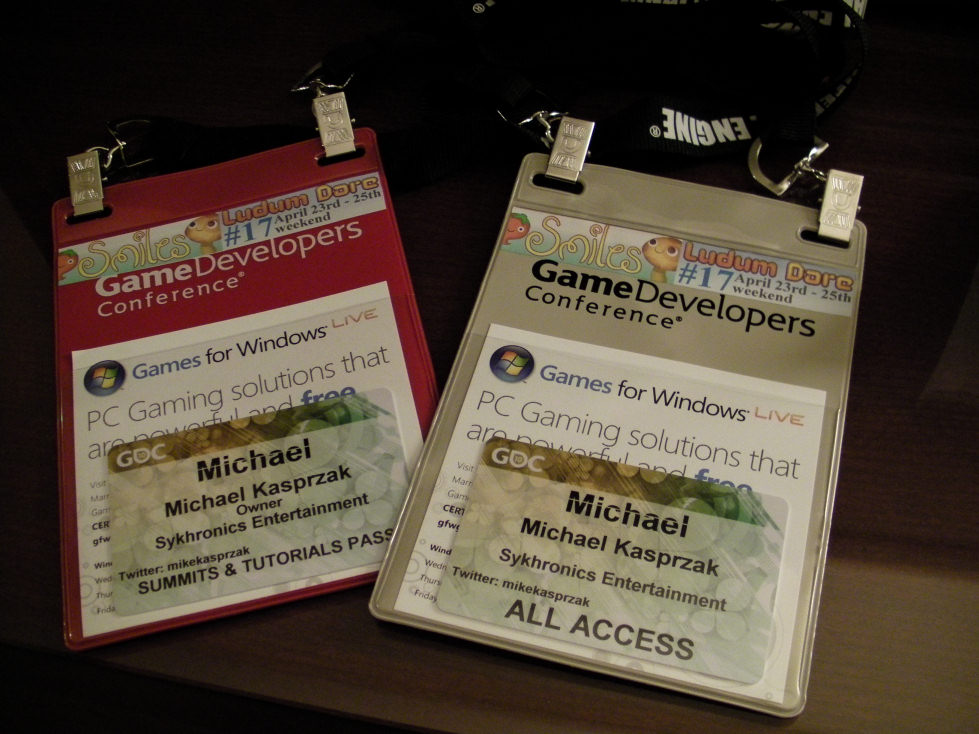 I don't know about you, but I really did have TWICE the GDC as you
Tuesday and Wednesday I spent the majority of my days at the Independent Games Summit. I did sneak in to an Android talk Google was giving, but for the most part I was on the indie side.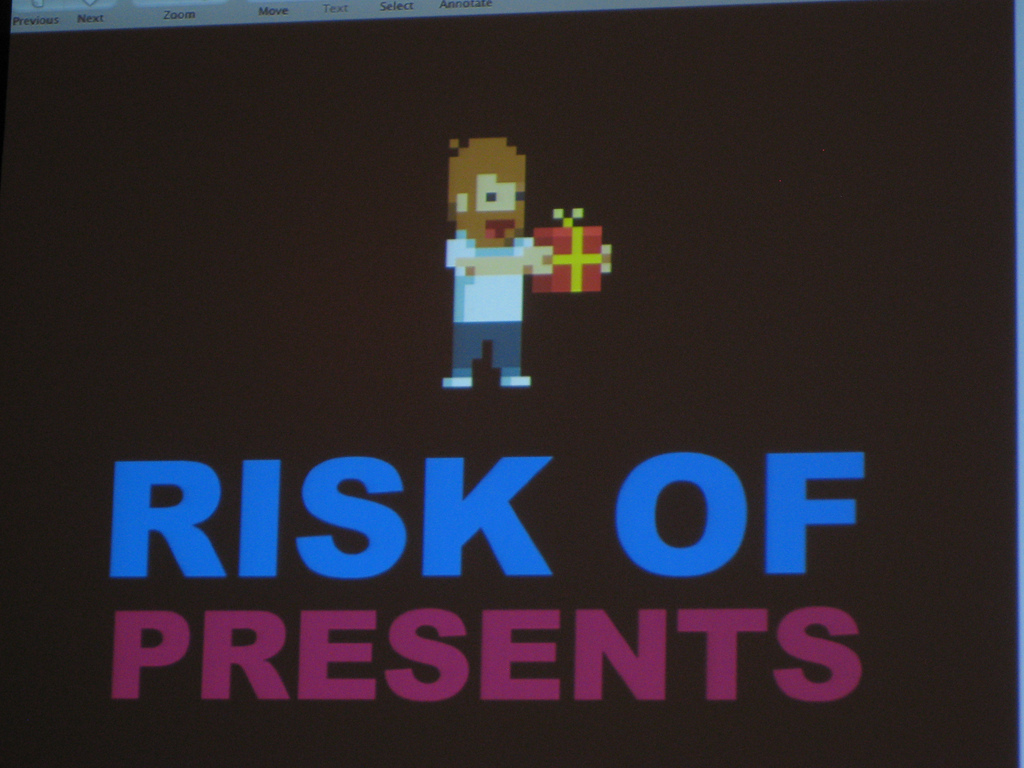 The danger of being an indie, other indies might give you gifts!Photo by Ted Martens of Intuition Games
Thursday and Friday, in between talks and roaming the expo center, I ended up doing a few interviews. Two with Intel (one in their "made just for GDC" mini TV studio), and one with an enthusiast site Netbook News. I'll post the interviews here once they go live.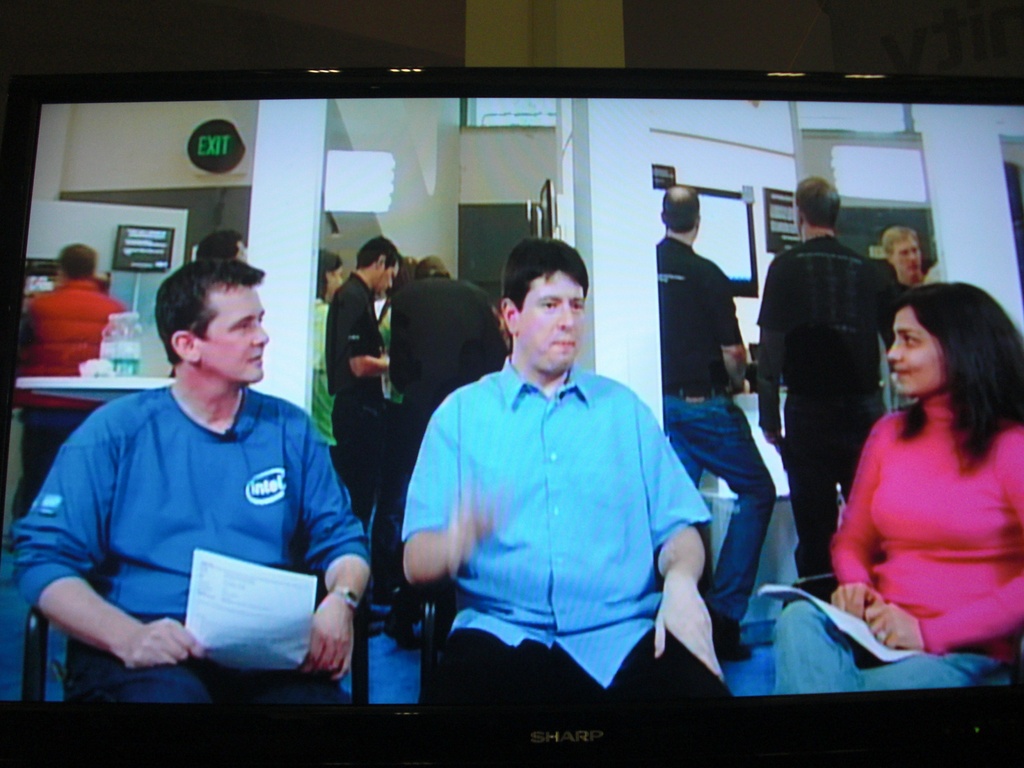 Not the best pose to be caught in, but still awesome to havePhoto by Ichiro Lambe of Dejobaan Games
But GDC for me is all about the social. Getting to hang out and chat with your friends and peers you only ever get to speak to via the internet. Real live people! Wow!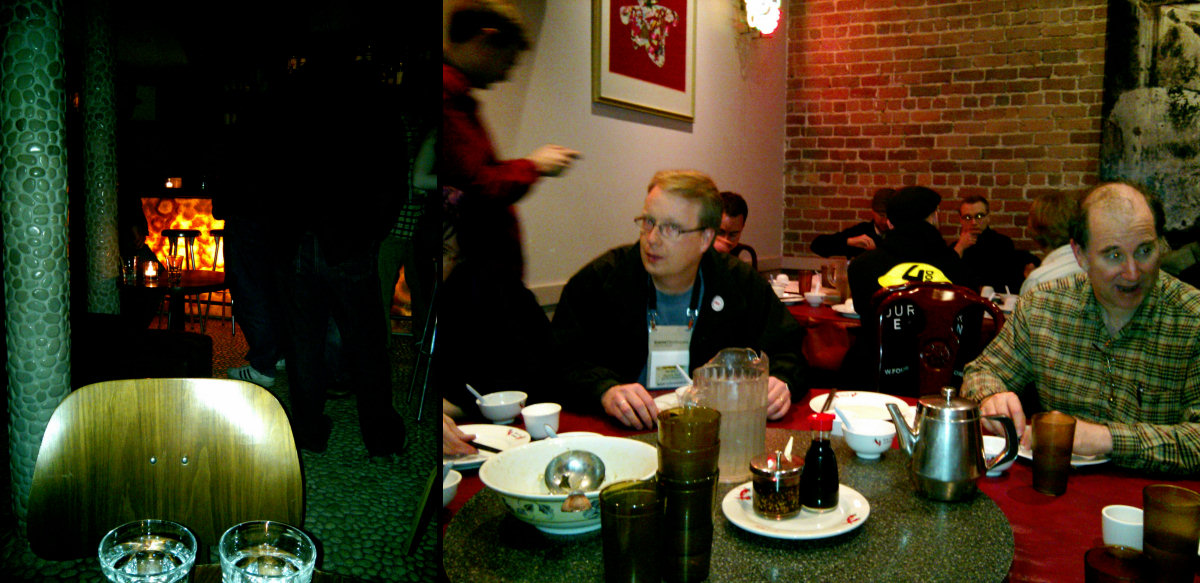 Left: Mysterious secret gathering | Right: forums.indiegamer.com dinner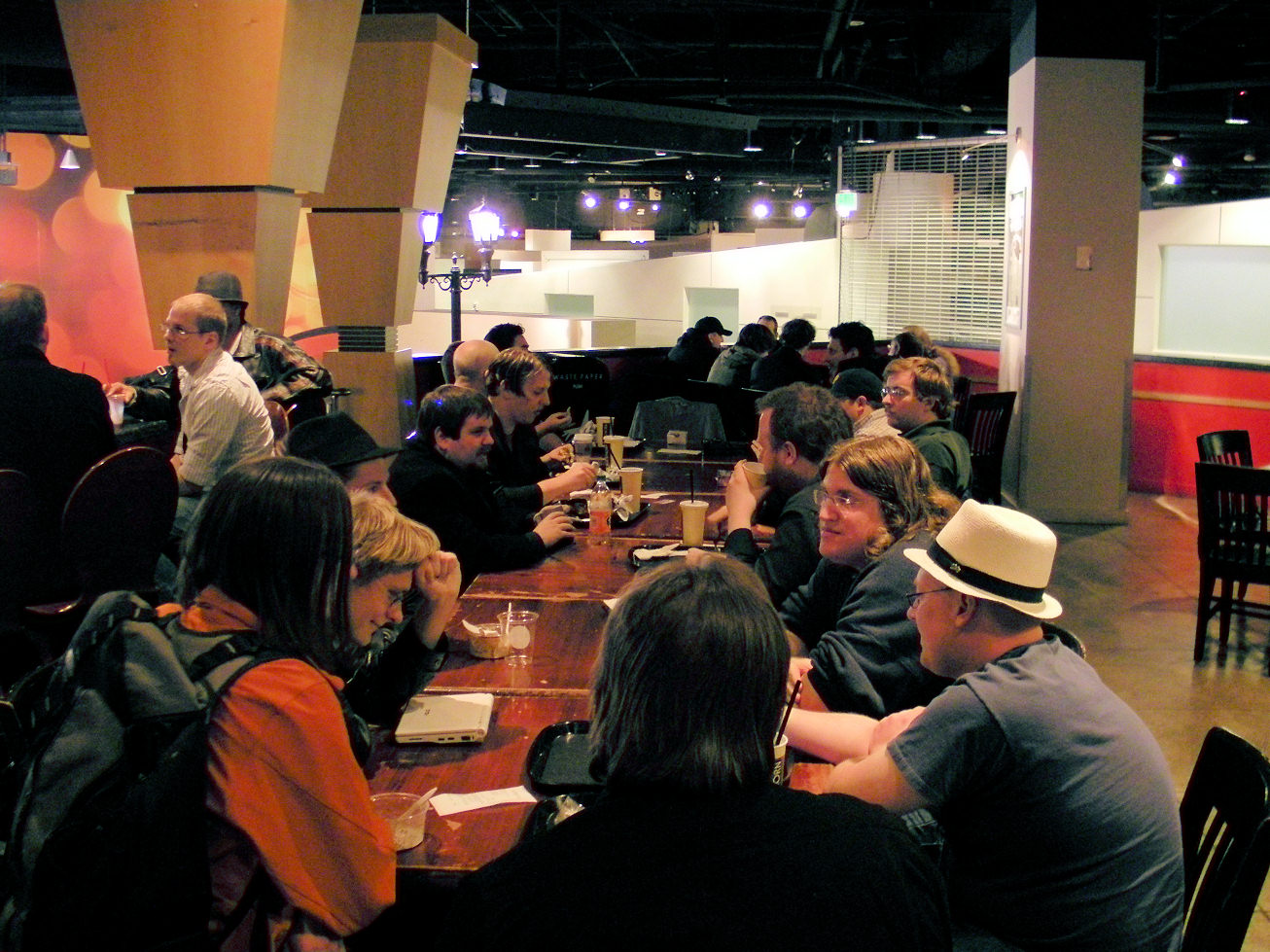 The Ludum Dare Meetup. Wow! I actually helped organize this! Wild!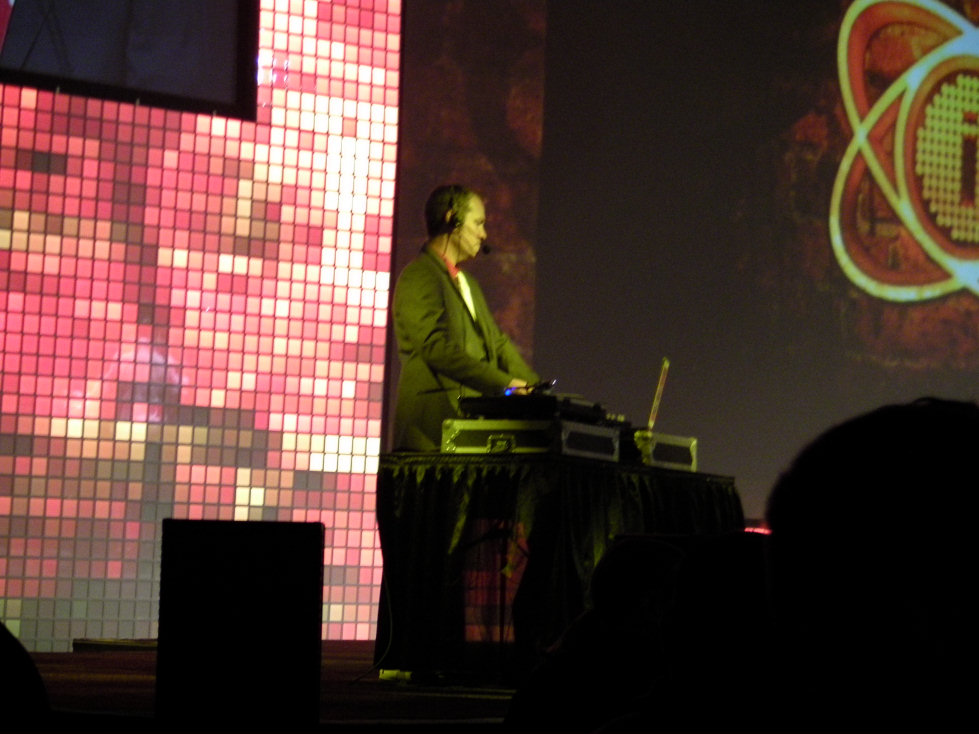 Jani of Secret Exit is totally awesome (not seen here). He was my next door neighbor exhibiting in the IGF Mobile last year, and brought me along to the VIP area of the IGF Awards this year. You rock Jani! This photo is of the IGF DJ, since it was the best photo I took from the inside.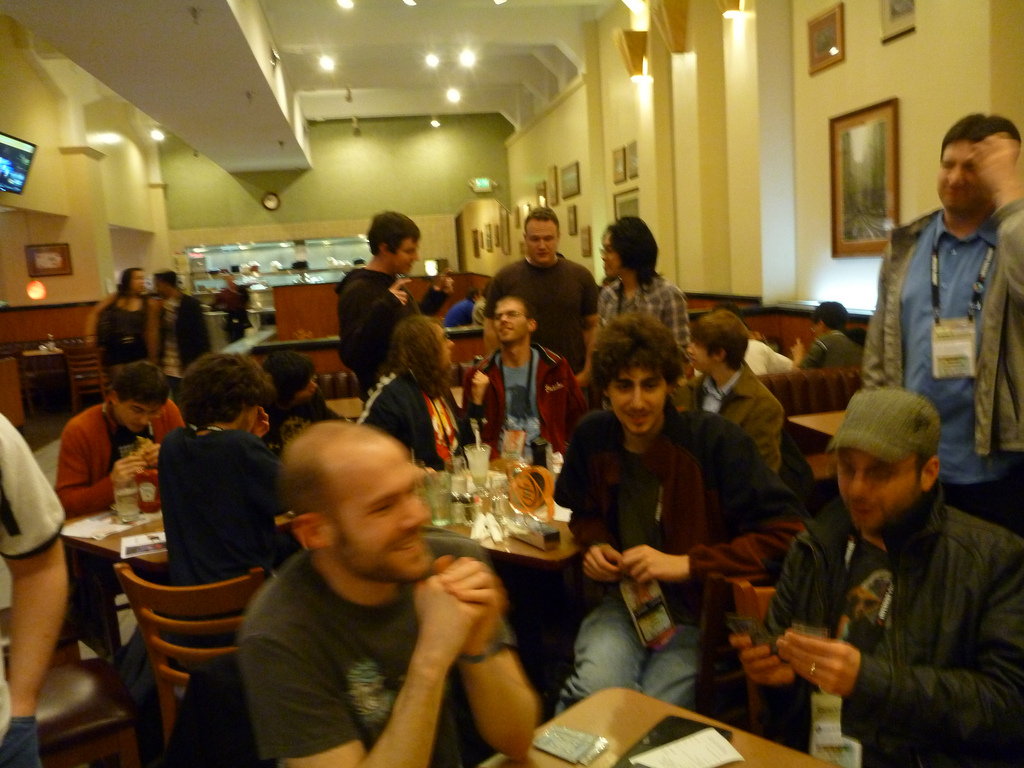 Indie Art Jam. Yet another shot where I'm making an odd facePhoto by Bekah Saltsman
Just like last year, I left San Fransisco filled with truck-loads of inspiration. The indie games community is such an amazing group of people, words can't describe it. I'm humbled to be a part of it.
Even though Smiles is a great product (as evident from all the winning), I can't help but feel that I have to step up my game even more. That I need to create something truly fantastic main competition IGF worthy, just to pay my respects to the community. I leave San Fransisco filled to the brim with excitement for game making, and telling myself "Lets get this business stuff out of the way so I can pay back the awesome with my own awesome". So very inspiring.
See you all next year.